2016 G-20 Summit held in Hangzhou, China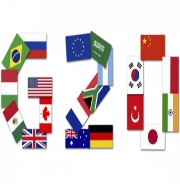 The 2016 Group of Twenty (G20) Summit was held in Hangzhou, China from 4th to 5th September 2016 to discuss efforts to reform global economic governance.
It was the eleventh meeting of the G20. It was the first ever G20 summit to be hosted in China and the second Asian country after 2010 G20 Seoul summit was hosted in South Korea.
The theme of 2016 G20 Summit: "Toward an Innovative, Invigorated, Interconnected and Inclusive World Economy".
Key Highlights of 2016 G20 Summit
G-20 leaders pledge have pledged to continue to work for a globally fair and modern international tax system, foster growth and refrain from competitive devaluation of currencies.
They will continue the work on addressing cross-border financial flows derived from illicit activities, including deliberate trade mis-invoicing, which hampers the mobilisation of domestic resources for development.
They vowed to go ahead on the ongoing co-operation on Base Erosion and Profit Shifting (BEPS), exchange of tax information, tax capacity-building of developing countries and tax policies to promote growth and tax certainty.
They also vowed to use all policy tools to achieve the goal of strong, sustainable, balanced and inclusive growth.
They agreed at the summit that refugees are a global issue and the burden must be shared. They called for strengthening humanitarian assistance for refugees.
The 2017 G20 summit will be held in Hamburg, Germany from 7-8 July 2017.
Note: The G-20 comprising of world's group of developed and developing countries represents over 85% of the world's economy and two-thirds of global population.
Month: Current Affairs - September, 2016
Topics: China • G20 • International • Sustainable Development • Taxation
Latest E-Books