Odisha CM inaugurated state's Longest Bridge over Mahanadi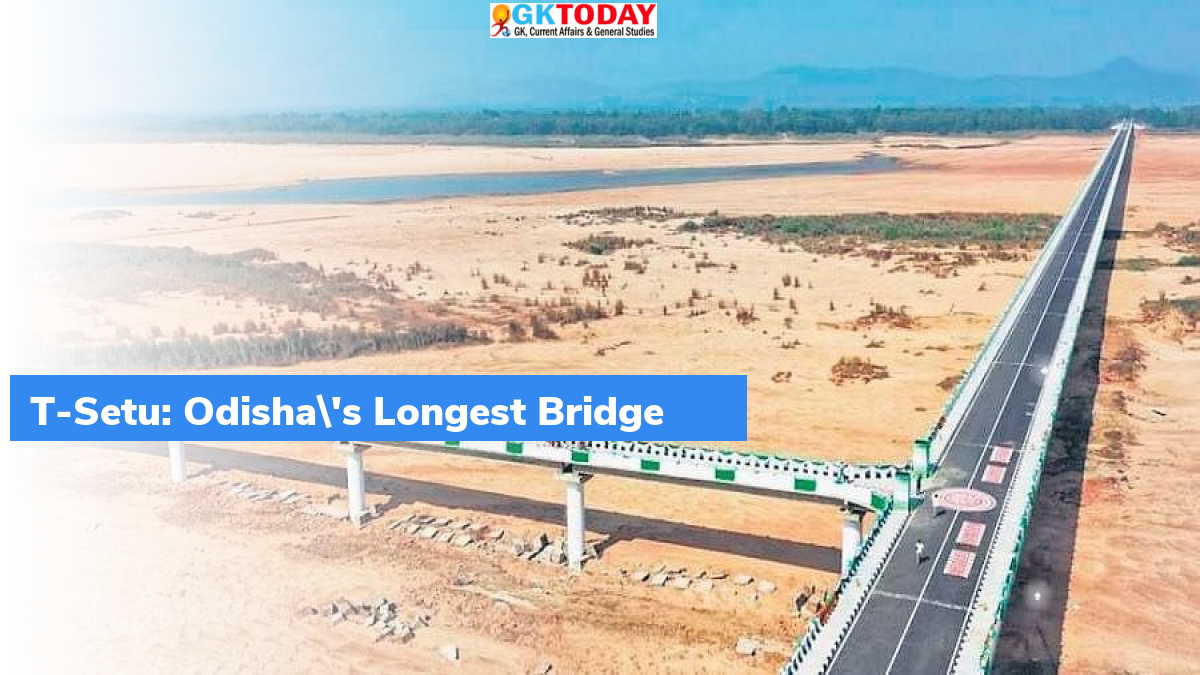 On December 20, 2021, Chief Minister of Odisha Naveen Patnaik inaugurated T-Setu over River Mahanadi.
Key facts about T-Setu
T-Setu is Odisha's longest bridge, constructed over Mahanadi River in Cuttack district.
It is a 3.4 km long and 7.5 metre wide bridge.
Bridge connects Gopinathpur in Badamba, Baideswar in Banki to Singhanath Pitha, which is located in the middle of Mahanadi River.
Bridge has been built in the shape of English alphabet 'T'.
Total cost of the bridge is Rs 111 crore.
T-Setu bridge comprises of footpath on both sides. It is of 1.5 metre width.
Reduced distance
T-Setu will benefit people of Cuttack and Khurda by reducing the distance between Badamba and Baideswar by 45 km.
Bridge will facilitate communication for some five-lakh people from nearby localities.
It will also improve agriculture, business and tourism activities in the area.
It will benefit devotees, who are visiting Baba Singhanath's Bali Makar Jatra in Badamba block.
Significance of the bridge
Construction of T-Setu is significant because, state government builds a 3-km long fair-weather road (pedestrian track), every year, on Mahanadi River at a cost of Rs 14- Rs15 lakh for facilitating communication for devotees. This road gets washed away in rainy season. As a result, construction of this bridge was a long-standing demand of locals.
Background
Chief Minister had laid foundation stone T-setu on February 28, 2014. But, due to some technical issues, construction work was delayed and started in 2018.
River Mahanadi
Mahanadi is a major river of East Central India, flowing through Chhattisgarh and Odisha. It has a total length of 900 kilometres and drains an area of around 132,100 square kilometres. This river is also famous for Hirakud Dam.
Tags: Chief Minister of Odisha • Mahanadi River • Naveen Patnaik
Month: Current Affairs - December, 2021