Induslnd Bank- BFIL merger to be effective from July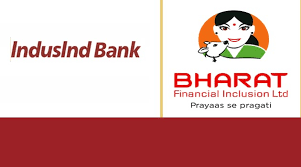 The merger of Induslnd Bank and Bharat Financial Inclusion Ltd (BFIL) will be effective from 4 July 2019. This decision to file National Company Law Tribunal (NCLT) Order on 4 July, by lender IndusInd , BFIL and IFIL with Registrar of Companies was taken by the boards of IndusInd and BFIL.
Key Highlights
Background: In October 2018, IndusInd Bank decided to acquire India's leading micro-finance player BFIL, earlier known as SKS Microfinance. On 10 June 2019, National Company Law Tribunal (NCLT), a quasi-judicial body in India that adjudicates issues relating to Indian companies, sanctioned Scheme of Arrangement among BFIL, IndusInd and IFIL and their respective shareholders and creditors.
Key Changes:
After the merger current CEO of BFIL, M R Rao, will become the CEO of IndusInd Financial Inclusion Ltd (IFIL) and all employees of BFIL will become part of Induslnd family.
The Business Correspondent (BCs) network of BFIL will operate under IFIL.
All Assets and liabilities of BFIL will be merged with IndusInd's balance sheet.
The consolidated financial results for 1st quarter of FY19 will be published on 12 July 2019.
In accordance with Scheme of Arrangement, BFIL's shareholders will get 639 shares of bank for every 1,000 they held. The scheme also contemplates a preferential allotment of share warrants to promoters of bank in accordance with scheme, which says that each share warrant, upon exercise, shall entitle Promoters to one Equity share.
Importance:
Financial Inclusion: This merger of IndusInd Bank Limited and BFIL will enable 8.8 million microfinance customers of BFIL to access savings, deposits and other banking products. Thus the merger will help in boosting financial inclusion in its truest form.
Increase Banking Reach: Also talent, capabilities and distribution of BFIL will enable IndusInd Bank to play a more meaningful role in rural India and will fulfill ambition of building financial inclusiveness and sustainability in large swathes of unbanked and underbanked India.
Tags: Bank Merger • Bharat Financial Inclusion Ltd • IndusInd Financial Inclusion Ltd • Induslnd • Induslnd Bank- BFIL merger
Month: Current Affairs - June, 2019
Latest E-Books