India's G.S. Lakshmi becomes 1st Female ICC Match Referee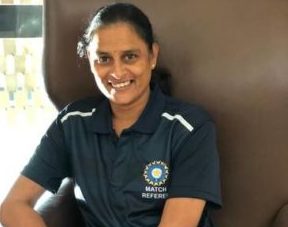 India's G.S. Lakshmi ha becomes first woman to be appointed to International Cricket Council's (ICC) International Panel of Match Referee. She will be eligible to take charge in international games with immediate effect.
Key Facts
Women Officials on ICC Development Panel of Umpires: now includes eight women, namely Eloise Sheridan, Claire Polosak, Shivani Mishra, Lauren Agenbag, Mary Waldron, Kim Cotton, Jacqueline Williams and Sue Redfern.
Earlier in May 2019, Claire Polosak became first ever woman umpire to stand in a men's ODI.
Kathy Cross was the first woman on development panel of umpires retired in 2018.
About G.S. Lakshmi
Lakshmi, (now aged 51) was first appointed as a match referee in domestic women's cricket in 2008-09. As a referee she has overseen three women's ODI matches and three women's T20I matches.
About ICC
It is the global governing body of cricket and was earlier named as 'Imperial Cricket Conference'.
It was founded in 1909 by representatives from South Africa, Australia and England
It is headquartered in Dubai, United Arab Emirates (UAE).
Tags: Claire Polosak • Dubai • G.S. Lakshmi • ICC • International Panel of Match Referee
Month: Current Affairs - May, 2019