Indian Visa Services Suspended in Canada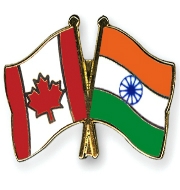 In a recent development, Indian visa services in Canada have been temporarily suspended. This suspension has significant implications for Canadian nationals planning to visit India, encompassing tourists, business travelers, students, and family members of Indian citizens.
The announcement of this suspension was made via the visa facility website of the Indian High Commission in Canada. However, there are exceptions for certain individuals, such as Indian-origin Canadians with valid Overseas Citizen of India (OCI) cards or long-term Indian visas. For these individuals, lifetime entry and residence in India are assured.
Existing Visa Holders Unaffected
Canadians who already possess valid Indian visas need not be concerned about disruptions. Their visas remain valid, ensuring that their travel plans to India proceed without impediments.
OCI Cardholders vs. Long-term Visa Holders
OCI cardholders enjoy lifetime entry into India and the ability to live and work in the country indefinitely. In contrast, individuals with long-term Indian visas have the right to enter India, but the duration of their stay may be limited by the terms of their specific visa.
Duration of Suspension Uncertain
The duration of the suspension hinges on the evolving political and diplomatic relations between India and Canada and is currently deemed temporary. At present, it is considered a temporary measure, with no fixed end date.
Trudeau's Allegation Sparks Crisis
The genesis of this crisis can be traced back to a statement by Canadian Prime Minister Justin Trudeau. He suggested a "potential link" between individuals he referred to as "agents of the Government of India" and the killing of Khalistani separatist Hardeep Singh Nijjar in Canada.
Reciprocal Measures by Canada
While Canada has maintained that its visa services are open, the possibility of reciprocal measures being imposed on Indians seeking Canadian visas remains contingent upon the evolving political and diplomatic situation between the two countries.
Month: Current Affairs - September, 2023
Category: International / World Current Affairs