Indian artist Anjali Chandrashekar wins award at UN poster contest on N-disarmament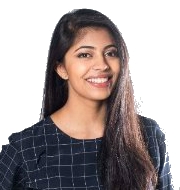 Indian artist Anjali Chandrashekar (22) has won the third prize in UN Poster for Peace contest presented by the UN Office for Disarmament Affairs (ODA) to raise awareness of the need for nuclear disarmament.
Her poster titled 'Cutting Barriers through Peace' featured a peace dove slicing through a nuclear weapon.
The first prize was won by Ivan Ciro Palomino Huamani (38) from Peru for his poster titled 'Spinning Peace'. His poster featured a nuclear weapon being unravelled into string which is then used to fly kites and balloons, and to jump rope.
Second prize was won by Michelle Li (15) for her poster titled 'Peace in our Hands', which had  featured a shadow puppet of a peace dove above a broken nuclear weapon.
Anjali Chandrashekar: She is a New York-based designer and activist. She had founded 'Picture It', a non-governmental organisation at the age of 10. Her NGO uses imagery to raise awareness and funds for various health, humanitarian and environmental causes.
Background
The UN Poster for Peace contest was organised to commemorate the anniversary of the very first UN General Assembly resolution adopted in 1946 establishing a Commission to deal with problems related to the discovery of atomic energy.
Month: Current Affairs - May, 2016