India-Japan Cooperation in ICT approved by Union Cabinet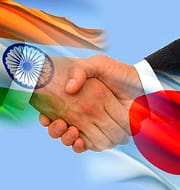 On October 29, 2020, the Union Cabinet approved the Memorandum of Cooperation (MoC) signed between India and Japan on Cooperation in the field of Information and Communication Technologies.
Highlights
The Memorandum will strengthen cooperation between the countries in the field of communications. The agreement will also help in cooperation in the field of telecom security, 5G, submarine cable, utilization of latest wireless technologies, Disaster relief, block chain, spectrum management, standard certification of communication equipment and cooperation on multilateral platforms.
Significance
The MoC will help India increase its opportunities of getting into Global Standardization Process. Also, it will help in promoting Indian human capacity in the field of ICT thereby realizing the objectives of Atma Nirbhar Bharat Abhiyan.
Background
Japan enjoys "Special Strategic and Global Partnership" with India.
India-Japan Recent Developments
In October 2020, India and Japan signed Agreement on Cooperation in 5G, Artificial Intelligence. The countries also agreed to give momentum to the Supply Chain Initiative in the Indo-Pacific region.
The Union Cabinet earlier this month approved the agreement between India and Japan to implement the Memorandum of Understanding signed to enhance cooperation between the countries in areas of cyberspace.
In September 2020, the External Affairs Minister Shri S Jai Shankar visited Japan to attend QUAD ministerial meeting.
India and Japan held JIMEX 2020, the military exercise in the North Arabian Sea.
In September 2020, Indi and Japan signed Logistics Agreement. This agreement will allow the armed forces of the countries to coordinate closely in supplies and services.
In September, 2020, Japan extended Rs 2,500 crores of credit to India as COVID-19 Crisis Emergency Response Support
Japanese countries are shifting from China to India
The Government of Japan announced that it will provide subsidies to the countries shifting their manufacturing united from China to India, ASEAN and Bangladesh.
Month: Current Affairs - October, 2020