Agricultural Census
Every five years, an agricultural census is conducted in India. First such census was done in 1970s and the reference year for the first Agriculture Census was 1970-71.  Under this scheme, centre provides funds to states and entire work is done by the states only.
Data in Census
The agricultural census is done in phases. Primary and Secondary data is collected on structure of operational holdings by different size classes and social groups. Operational Holding refers to all land which is used wholly or partly for agricultural production and is operated as one technical unit by one person alone or with others without regard to the title, legal form, size or location.
Three Categories of states on Land Use statistics
For the purpose of land use statistics; India has been divided broadly into three categories.
In the first category are States where the village revenue agency collects statistics relating to land holdings as a part of land records. This is done by village officials on the basis of actual inspection in the field at periodic intervals. Standard forms have been prescribed for this purpose. These data are then aggregated at the level of Revenue Inspector Circle, Tehsil, District and State by the officers of Revenue/Agriculture Departments.
The second category consists of States of West Bengal, Orissa, and Kerala, where revenue agencies do not exists. In these states, information is collected on a sample area under principal crops and land utilisation. This is done by complete field to field enumeration of the sample villages.
The third category consists of States and Union Territories mostly in the North-Eastern Region (except Assam) which are neither surveyed for land records nor the requisite revenue agencies for collection of data exist. In these areas the statistics of land records are collected on a sample basis on the basis of personal knowledge of Revenue Officer/Agricultural Officer.
Types of Landholdings in India
An operational land holding is a techno-economic land unit used wholly or partly for agricultural production and operated (directed/managed) by one person alone or with the assistance of others, without regard to title, size or location. A operation land holding may be consisted of either one or more than one parcels of land, provided they form the part of same unit.  Operational Land Holdings include only those units which are used either in farm production or farm production + livestock and poultry products (primary) and/or pisciculture or for only livestock and poultry products (primary) and/or pisciculture.
There are five kinds of Land Holdings in India, depending on various sizes as follows:
Marginal holdings: Size 1 hectare or less
Small holdings: Size 1 to 2 hectares
Semi-medium holdings : Size 2 to 4 hectares
Medium holdings: Size 4 to 10 hectares
Large holdings: Size above 10 hectare
Maximum number of operational land holdings in India is marginal holdings. According to Census 2011, 67 per cent of holdings were classified as marginal (less than one hectare) and 18 per cent were classified as small (one-two hectare). Large holdings were estimated to be only 0.7%.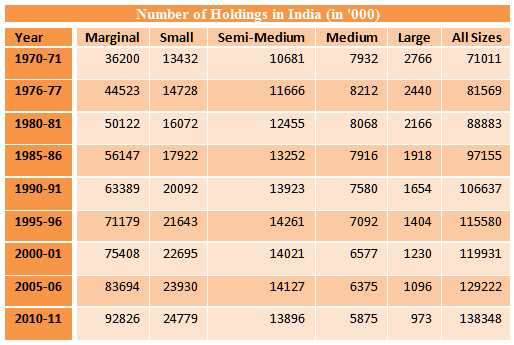 Highlights from the latest agricultural Census
The below observations have been sourced from Agricultural Census 2010-11.
There are 138.35 million (13.8 Crore) operational land holdings in India. In comparison to 2005-06, there was an increase of 7% in number of these holdings. Out of these 12.78% land holdings belong to women.
The average size of operational holding in India is 1.15 ha. 85.01% operational land holdings in India are marginal holdings (below 2.00 ha). There are 14.29% semi-medium and 3.7% large holdings.
Highest number of operational land holdings in India are in Uttar Pradesh, followed by Bihar, Maharashtra and Andhra Pradesh. Lowest land holdings in India are in Chandigarh. However, in terms of operated area, the largest contribution comes from Rajasthan followed by Maharashtra. Chandigarh constituted the lowest number of operational holdings as well as the operated area in the country in 2010-11.
Topics: Land Reforms , Land Use statistics , Landholdings in India