Fact Box: Freedom Fighter Mohan Ranade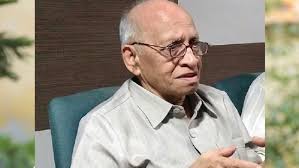 Mohan Ranade, the Veteran freedom fighter who played a major role in Goa Liberation Movement in 1950s, recently died in Pune at 90 years of age.
About Mohan Ranade
He was born in 1929 at Sangli, Maharashtra. He was a lawyer by training and was greatly inspired by freedom fighters like Ganesh Damodar Savarkar and Vinayak Savarkar.
Fight for Goa: Ranade decided to dedicate his life to liberate Goa from clutches of Portuguese and thus he entered Goa in 1950 under disguise as a teacher and founded an organisation called Azad Gomantak Dal, which was to raise an armed revolt against Portuguese rule. He was injured during an attack on a police station at Beti in 1955 and was consequently arrested by Portuguese police.
After being arrested by Portuguese police in 1955, he was imprisoned at Fort of Caxias near Lisbon in Portugal where he was kept in solitary confinement for 6 years. Then in 1961 when Goa got liberated from Portuguese rule, Ranade was released in January 1969, after having spent 14 years in prison.
He received Goa Puraskar in 1986 for social work and was awarded the Padma Shri in 2001. He has also authored books on Goa liberation movement.
What is Goa Liberation Movement?
It was a movement which was aimed to end Portuguese colonial rule in Goa, India.
Initially, the movement was built on small scale revolts and uprisings of 19th century but grew powerful during 1940-1961 periods. In the end Portuguese control of its Indian colonies ended only when after failure of diplomacy with Portuguese, Government of India ordered Indian Armed Forces to take Goa by force.
Thus on 18 and 19 December 1961 military operation were conducted in which Indian troops invaded and captured Goa with little resistance. The governor-general of Portuguese India signed an instrument of surrender and incorporated Portuguese territories into Indian Union.
Month: Current Affairs - June, 2019