Yoga makes it UNESCO list of Intangible Heritage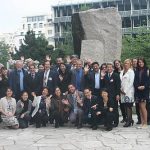 UNESCO has inscribed the ancient Indian practice of Yoga in the representative list of Intangible Cultural Heritage of Humanity. The list is comprised of only those elements which help express it's diversity and also create awareness of its significance.  This is a significant achievement as it will be highly instrumental in helping India to play a lead role in global dialogue for inter-cultural relations and foster ideas of peace and tolerance with other nations.
Fact-sheet:
The decision was at the 11th session of the Intergovernmental Committee for the Safeguarding of the Intangible Cultural Heritage held in Addis Ababa, Ethiopia. The declaration had bagged a unanimous support of all the 24-members. The Committee meets annually to make evaluations based on nominations proposed by the States Parties to the 2003 Convention.
Yoga is thus the 13th intangible cultural heritage which has been listed from India by UNESCO. Other contributions from India include- the Chhau dance( Inscribed in 2010), the Buddhist chanting of Ladakh ( inscribed in 2012), Sankirtana –the ritual singing, drumming, and dancing of Manipur( inscribed in 2013), the traditional brass and copper craft of utensil making among the Thatheras of Jandiala Guru, Punjab(inscribed in 2014) and Ramlila- the traditional performance of the Ramayana ( inscribed in 2008).
The Indian delegation to the Committee was lead by Ms. Ruchira Kamboj- the permanent representative of India to UNESCO.
The Intangible Cultural Heritage list of UNESCO was established in 2008 after the Convention  for the Safeguarding of the Intangible Cultural Heritage came into effect. Presently the list includes 814 cultural sites, 203 natural and 35 with both cultural and natural qualities.
Topics: Chhau dance • Conservation and restoration • Cultural heritage • Intangible cultural heritage • Jandiala Guru • Law by country • Manipuri Sankirtana • Politics by country • Ruchira Kamboj • Traditional knowledge • Traditions • UNESCO Intangible Cultural Heritage Lists
Latest E-Books