What is V-Shaped Recovery?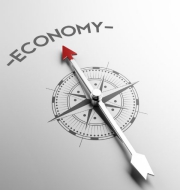 A V-shaped recovery is a type of economic recession and recovery that resembles the shape of alphabet V in charting. A V-shaped recovery involves a sharp revival of the economy to the previous peak after a sharp decline. The Finance Ministry's latest Monthly Economic Review report stated that the Indian Economy is witnessing a V-shaped recovery as the decline in the GDP has narrowed to 7.5% in the second quarter of 2020-21 from 23.9% in April-June quarter.
Key Features of V-Shaped Recovery
Name "V Shaped Recovery" is derived from the shape of the graph representing recession and revival of an economy, which resembles the alphabet V.
This particular recovery involves a deep recession in economy, followed by a sharp rise back.
Such recoveries are resultant of an economic stimulus offered by the Government and easy money policy perused by the Central Bank.
The recovery in V shaped curve witnesses improved production levels and strong consumer demand.
V Shaped recovery is said to be one of the best-case scenarios, since an economic depression is immediately followed by quick recovery in major parameters of macroeconomic performance.
Other Shapes of Economic Recovery
The other shapes of economic recovery are Z-shaped recovery, U-shaped recovery, W-shaped recovery, L-shaped recovery and elongated U-shaped recovery. The main difference between these different shapes of economic recovery is the time taken for the economic activity to normalize. The other aspects include kind of policy response taken by the Government, effect of the pandemic on jobs and household incomes.
Of all the shapes, Z-shape recovery is the most optimistic recovery as the economic raises very quickly after the crash.
To help the country recover at faster rate, RBI has kept its repo and reverse repo rates unchanged during its recent Monetary Policy Committee meeting. The repo rate was maintained at 4% and reverse repo rate at 3.35%.
Month: Current Affairs - December, 2020
Category: Economy & Banking Current Affairs
Topics: COVID-19 • Economic growth • Economic slow down • Economic stagnation • Recovery Rate • Reserve Bank of India (RBI)
Latest E-Books