New Wasp species identified in Goa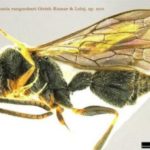 Scientists have recently identified a new species of wasp from the genus Kudakrumia in Goa. The wasp species was collected from Western Ghats forest.
Key Highlights
Nomenclature: The wasp is dubbed as Kudakrumia rangnekari. It has been named after Parag Rangnekar, a Goa-based researcher.
Genus: It belongs to genus Kudakrumia. The Kudakrumia is a genus of primitive wasps that is described and previously known only from Sri Lanka.
Found: The new Wasp species was collected in the Western Ghats forests from Cotigao Wildlife sanctuary (located in South Goa district).
About Wasp: It is any insect of order Hymenoptera and suborder Apocrita which means neither a bee nor an ant. Wasps are proficient at controlling pest populations and thus are deployed to protect crops. For instance in Brazil, farmers control sugarcane crop borers with a kind of parasitic wasp.
About Parag Rangnekar
He is founder-president of the Goa Bird Conservation Network (GBCN). He has now undertaken documentation of dragonflies in State.
His quest to document butterflies in the Western Ghats region has resulted in a record of 220 species, of which 13 species had not been spotted earlier.
Month: Current Affairs - May, 2019
Category: Environment Current Affairs
Topics: Apocrita • Cotigao Wildlife sanctuary • Goa Bird Conservation Network (GBCN) • Hymenoptera • Kudakrumia Genus • Kudakrumia rangnekari • New Wasp Species • Parag Rangnekar
Advertisement