For the first time Grizzled Giant Squirrel Nests sighted near Gingee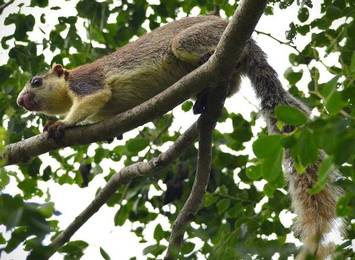 For the first time more than 300 nests of Grizzled Giant Squirrel were sighted by researchers at Pakkamalai Reserve Forests near Gingee (in Eastern Ghats) in Tamil Nadu.
About Grizzled Giant Squirrel
It is a large tree squirrel in genus Ratufa (Scientific name is 'Ratufa macroura').
Features: It is an agile climber and is almost entirely an arboreal, very rarely coming to ground to escape from predators. It is smallest of all the giant squirrels found in Indian subcontinent,
Distribution: In India it is found in patches of riparian forest along Kaveri River and in hill forests of southern states-Karnataka, Tamil Nadu and Kerala. It is also found in Sri Lanka
It is generally known to nest in foothills of Western Ghats ranging from Chinnar Wildlife sanctuary in Kerala to Anamalai Tiger Reserve and Palani hills in Tamil Nadu and in couple of areas in Eastern Ghats.
In 1988, The Grizzled Squirrel Wildlife Sanctuary located in Tamil Nadu was established to protect vulnerable grizzled giant squirrel.
Conservation status: It is threatened by habitat loss, poaching and is also in high demand in pet trade.

International Union for Conservation of Nature (IUCN) Red List: Near Threatened
Listed under Schedule II of CITES (Convention on International Trade in Endangered Species of Wild Fauna and Flora).
Listed under Schedule I of the Wildlife Protection Act (WPA),1972.
Month: Current Affairs - May, 2019