Union Government unveils Indradhanush Mission for PSBs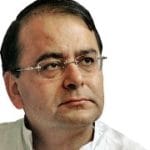 Union Government has launched a seven pronged plan called Indradhanush Mission to revamp functioning of public sector banks (PSBs).
It was launched by Union Finance Minister Arun Jaitley in New Delhi.
Facts about Indradhanush Mission
The seven shades of Indradhanush mission include appointments, de-stressing PSBs, capitalisation, empowerment, framework of accountability and governance reforms.
It seeks to achieve the objective of economic growth revival through improving credit and minimising the political interference in the functioning of PSBs.
Appointments: Selection of non-executive chairman in remaining 6 state owned PSBs till November 2015.
Appointing MD & CEO of two PSBs as early as possible.
Bank Board Bureau (BBB): It will be a body of 'eminent' professionals to be selected within 6 months i.e. February 2015.
It will become functional from Financial year 2016-17 i.e. form 1st April 2016.
Capitalisation: Infuse 25,000 crore rupees of capital into debt-laden banks in this fiscal in phased manner. Out of this 20,000 crore rupees would be injected in August 2015.
Rest 5,000 crore rupees will be performance based allocation to be allocated in the last quarter of 2016.
De-stressing PSBs: To develop vibrant debt market for PSBs in order to reduce lending pressure on banks.
Strengthen asset reconstruction of companies.
Empowerment: Provide greater flexibility in hiring of manpower in PSBs.
Framework of accountability: It will seek to streamline vigilance process for quick action in case major frauds and also include connivance of staff.
Governance reforms in PSBs: Next Gyan Sangam (also known as the Banker's Retreat) will be held from 14 to 16 January 2016. Employee Stock Option Plan (ESOP) will be initiated for top management.
Month: Current Affairs - August, 2015
Topics: Banking • Current Affairs 2016 • PSBs
Latest E-Books