Turkey declares three-month state of emergency after a failed military coup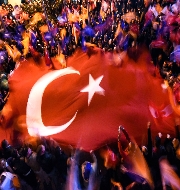 Turkey has declared three-month state of emergency after a failed military coup to overthrow the democratically elected government.
Announcement in this regard was taken by Turkish President Recep Tayyip Erdogan after a meeting with Cabinet ministers and top security advisers in Ankara.
Three-month state of emergency was declared as measure to counter threats to Turkish democracy. The emergency allows officials to set curfews, issue search and arrests warrants and restrict gatherings.
2016 military coup in Turkey
The 2016 military coup in Turkey was attempted against the ruling Justice and Development Party Government led by President Recep Tayyip Erdogan. However it failed to overthrow ruling democratically elected government and ended one day later.
The coup was carried out by a faction within the Turkish Armed Forces under a council calling itself the Peace at Home Council. It had attempted to seize control of several key places in Istanbul, Ankara and elsewhere across the Turkey.
It is said that the coup to overthrow government was undertaken due eroding secularism, human rights, democracy and international reputation of Turkey under the current government.
The forces loyal to President Erdogan toppled the coup and took control of military factions that tried to overthrow Turkey's democratically government and military leadership with military rule.
The Turkish Government has blamed soldiers linked to the Gülen movement—a group designated as a terrorist organization led by Fethullah Gülen were behind the coup.
However, Fethullah Gülen has condemned the coup and denied any involvement.
Earlier in 1987, Turkey had imposed martial law-like emergency rule in the southeast of the country and was gradually lifted by 2002. It had allowed officials to set curfews, issue search and arrest warrants and restrict gatherings as the security forces fought Kurdish rebels in the region.
Month: Current Affairs - July, 2016
Topics: Gülen movement • International • Military Coup • Recep Tayyip Erdogan • Turkey
Latest E-Books