Triple talaq a highly misused custom: NCW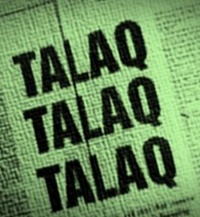 The National Commission of Women (NCW) has held that triple talaq was a "highly misused" custom and Government should scrap it to protect the rights of Muslim women.
NCW clearly mentioned that the traditional custom of triple talaq should be banned in an effort to protect the rights of Muslim women and it cannot be linked to the Uniform Civil Code. According to the commission, Muslim women feels disempowered because of the practice of triple talaq.
What is triple talaq?
'Triple Talaq' or 'Oral talaq' is a procedure of divorce mentioned under the Sharia Law which is a body of the Islamic law. Under this, a husband can divorce his wife by pronouncing 'Talaq' thrice.
Why triple talaq should be abolished?
The practice of 'triple talaq' has enabled husbands to divorce their wives arbitrarily, devoid of any substantiation. It impact adversely on the right of women to a life of dignity. The 'triple talaq' has been abolished in 21 Islamic theocratic countries including Pakistan. It is also against constitutional principles such as gender equality, secularism, international laws etc.
What is Government's position?
Recently Central Government in affidavit submitted to Supreme Court held that the practice of Triple talaq is against the principles of gender justice, gender equality and dignity enshrined in the Constitution. This pernicious practice is not integral to the right to freedom of religion.  Triple talaq is not an essential religious practice in Islam and violates right to equality, non-discrimination on the grounds of sex and the right to live with dignity to women in par with men guaranteed in the Constitution.
About National Commission for Women (NCW)
The NCW is a statutory body generally concerned with advising the government on all policy matters affecting women.
It was established in January 1992 under the National Commission for Women Act, 1990 as per the provisions of the Indian Constitution.
The objective of the NCW is to represent the rights of women in the country and to provide a voice for their issues and concerns.
Month: Current Affairs - October, 2016
Topics: National • NCW • Social Issues • Triple Talaq • Women Related Issues
Latest E-Books