Torpedo Recovery Vessel of Indian Navy sinks off the Visakhapatnam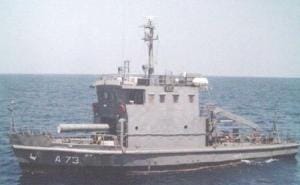 On 6th November 2014, a Torpedo Recovery Vessel, TRV-72 of Indian Navy sank within 10-15 kms off Vizag port, near Visakhapatnam coast during a naval exercise.
One sailor was killed in the incident while three others went missing. At the time of incident there were 28 personnel on board of which 24 were rescued by naval ships and rescue operation was launched for the missing.
About The Incident
TRV 72 sank due to flooding in one of its compartments. The flooding happened when the vessel was on its way back after collecting the "dummy" torpedo that was used in the exercise.
Preliminary reports suggest that a recess in the hull for intake of water developed a crack leading to flooding, while the exact cause is not known. A Board of Inquiry has been instituted to investigate the accident.
About the Torpedo Recovery Vessel (TRV)-72
Sunken TRV-72 was of an Astravahini Class. The ship was 23 meters long and 6.5 meters at the beam and weighed 112-tonne. It was built by Goa Shipyard in 1983 and commissioned into the Navy on 23 February 1983. It has served the Indian Navy for the last 31 years.
The Torpedo Recovery Vessel (TRV) is an auxiliary vessel which is used to recover practice torpedoes fired by fleet ships and submarines.
Month: Current Affairs - November, 2014
Topics: Accidents • Current Affairs - 2017 • Indian Navy
Latest E-Books