Tariff War: India levies retaliatory tariffs on 28 US products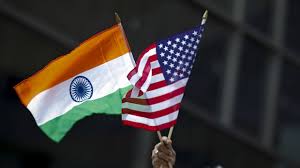 In a tit-for-tat trade battle between the United States (US) and India, latter imposed higher tariffs on 28 American goods including almonds, apples and walnut in retaliation to US tariffs.
Key Highlights
Among targeted US products imported, the custom duty on walnut is increased from 30% to 120%, and on chickpeas, masur dal and Bengal gram (chana) has been raised from 30% to 70%.
India is expected to get about $220 million of additional revenue from the new tarriffs on items imported from the US. Just minutes before the tariffs came into force, the government dropped only one item called artemia, a type of shrimp from the tariff list.
About India-US Trade War
Background: Initially the retaliatory tariff by India, were triggered by US announcing higher duties on Indian steel and aluminium in 2018 but were deferred multiple times in view of possible trade dialogue between the two countries.
Current Scenario: Lately, India had decided to levy higher tariffs following America's withdrawal of $5.6 billion trade concessions given to India by US under the Generalised System of Preferences (GSP) programme in June 2019 which benefitted Indian Exports. This move comes ahead of meetings between Donald Trump, President of United States and Prime Minister Narendra Modi at upcoming G20 summit on June 28-29 in Osaka, Japan.
Concern: The strain in trade relation between two economies (India-US) comes at a time when the global economic growth rate is projected to slow down as trade tensions among other major economies (like between US and China) weighs on business confidence and investments. The International Monetary Fund's (IMF) World Economic Outlook (WEO, a biannual survey that is partly updated twice a year) in April 2019 forecasted a downfall in global growth to 3.3% for 2019, down from the 3.5% in January 2019.
Way Ahead: Also, by the end of June 2019 US Secretary of State (SoS) Mike Pompeo will be visiting India for bilateral talks with his Indian counterpart S. Jaishankar External Affairs Minister. Ahead of meet Mike stated that US was open to discussions on the Generalized System of Preferences (GSP).
Month: Current Affairs - June, 2019
Category: Economy & Banking Current Affairs
Topics: artemia • External Affairs Minister • G20 summit • Generalised System of Preferences • India-US Trade War • International Monetary Fund • Mike Pompeo • Retaliatory Tariffs • S jaishankar • Tariffs on US goods • US Secretary of State • US-China Trade War • World Economic Outlook
Latest E-Books