TAPI gas pipeline: Work on Afghanistan section begins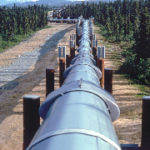 Turkmenistan, Afghanistan, Pakistan and India have ceremonially broke ground on Afghanistan section of ambitious, multi-billion dollar TAPI gas pipeline. The ceremony was attended by Afghanistan President Ashraf Ghani and his Turkmenistan counterpart Gurbanguly Berdymukhamedov, Pakistani Prime Minister Shahid Khaqan Abbasi and India's Minister of state for external affairs Shri M. J. Akbar.
TAPI gas pipeline
TAPI gas pipeline project is proposed trans-country natural gas pipeline from Caspian Sea, Turkmenistan to India through Afghanistan and Pakistan. The abbreviation TAPI itself indicate its member countries- Turkmenistan, Afghanistan, Pakistan and India. The pipe line connects central Asia with south Asia covering 1,840 km.
The pipeline begins from Turkmenistan's Galkynysh field (formally known as South Yoiotan Osman) that has gas reserves are 16 trillion cubic feet. The estimated construction cost of the project is 10 billion US dollars and is being funded by Asian Development Bank (ADB).
The pipeline has capacity to carry 90 million standard cubic metres a day (mmscmd). Both India and Pakistan will get supply of about 38 mmscmd whereas Afghanistan will get 14 mmscmd supply of natural gas. The pipeline will begin pumping natural gas from Turkmenistan's giant Galkynysh gas field by the beginning of 2020 and supply life is expected to last for period of 30 years.
The pipeline runs through Galkynysh field (Turkmenistan), Afghanistan's Herat and Kandahar province, Pakistan's Multan via Quetta and ends at Fazilka in Punjab (India). For its security, an inter-government joint security task force (JSTF) has been recommended to serve as  nucleus of safety provided by security consultants.

Significance
The TAPI Project is considered as an important initiative of these four countries to connect energy rich Central Asia with energy starved South Asia. It marks a new dawn of economic engagement through regional connectivity by economically integrating region stretching from Bay of Bengal to Caspian Sea.
From India's perspective, TAPI Project will provide an alternative supply source of gas with dependable reserves leading to enhanced energy security. It will further diversify the fuel basket to the benefit of Indian economy as it would be used mainly in power, fertilizer and city gas sectors.
Month: Current Affairs - February, 2018
Topics: Afghanistan • India • International • Pakistan • TAPI gas pipeline • Turkmenistan
Latest E-Books