Swachhata Excellence Awards 2019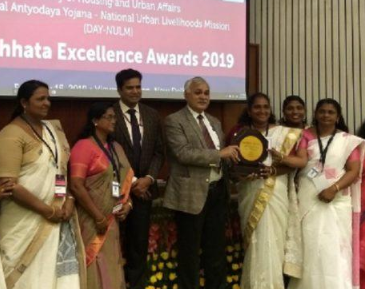 The Raigarh Municipal Corporation of Chhattisgarh has won the "Swachhata Excellence awards 2019".  The municipal corporations of Ambikapur of Chhattisgarh and Kumbakonam of Tamil Nadu have bagged the second and third prizes respectively. All of these are AMRUT cities.
A total of 40 awards were distributed to the Area Level Federations (ALFs), City Livelihoods Federations (CLFs) and Urban Local Bodies (ULBs). These Awards were given by the Ministry of Housing and Urban Affairs (MoHUA) as part of the Shehri Samriddhi Utsav. 
Other Winners
Greater Hyderabad Municipal Corporation has been awarded the first prize for the Million Plus Cities.
Nagar Palika Parishad of Jashpur Nagar (Chhattisgarh), Malappuram Municipality (Kerala), and Nagar Palika Parishad Surajpur (Chhattisgarh) claimed the prizes in the "Statutory Towns" category.

 

FromAspirational Districts, Chas Municipal Corporation (Bokaro district of Jharkhand) has been awarded a consolation prize.

 
What is Shehri Samriddhi Utsav?
The Shehri Samriddhi Utsav was organised by the Ministry of Housing and Urban Affairs (MoHUA) from 1st – 15th February 2019. A number of activities and events were organized at the City, State and National level as part of the initiative which aimed at extending the outreach of National Urban Livelihoods Mission (DAY-NULM) to the poorest of the poor and the most vulnerable by showcasing its initiatives and facilitating access of SHG members to the other government schemes. 
What is DAY-NULM?
National Urban Livelihoods Mission (NULM) was launched by the Ministry of Housing and Urban Poverty Alleviation (MHUPA), Government of India on 23rd September 2013 by replacing Swarna Jayanti Rozgar Yojana.
DAY-NULM focuses on organizing urban poor in their strong grassroots level institutions, creating opportunities for skill development leading to market-based employment and helping them to set up self-employment venture by ensuring easy access to credit.
The Mission is aimed at providing shelter equipped with essential services to the urban homeless in a phased manner. It encourages the formation of SHGs of those from vulnerable occupations, such as rag pickers and waste pickers. 
What are the Swachhata Excellence Awards?
Swachhata Excellence Awards were instituted by Ministry of Housing & Urban Affairs (MoHUA) in 2017, to encourage Area Level Federations (ALFs) of SHGs formed under DAY-NULM, for their initiatives to make their communities Swachh and help their cities achieve the outcomes of Swachha Bharat Mission – Urban (SBM-U).
The City Swachhata Livelihoods Awards for Urban Local Bodies (ULBs) was introduced this year for the ULBs for creating an enabling environment for dignified livelihoods in the sanitation sector. 
Category: Awards, Persons & Places in News
Topics: Ambikapur • DAY-NULM • Kumbakonam • Ministry of Housing and Urban Affairs • National Urban Livelihoods Mission • Raigarh Municipal Corporation • Shehri Samriddhi Utsav • Swachhata Excellence Awards • Swachhata Excellence Awards 2019 • Tamil Nadu
Latest E-Books