SpaceX launches First 60 satellites of its 'Starlink' Constellation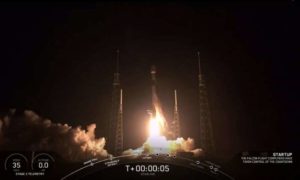 SpaceX launched a rocket carrying the first 60 satellites of its 'Starlink' constellation, from Cape Canaveral, Florida in US. The SpaceX's new array of Starlink communication satellites is intended to provide Internet from space
Key Highlights
Launch Vehicle: The launch was conducted by SpaceX's Falcon 9 rockets which began to release the satellites at an altitude of 280 miles (450 kilometers).
Orbit Position: The satellites later separated and used their thrusters to take up their positions in a relatively low orbit of 340 miles (550 kilometers).
The satellite orbit is slightly higher than International Space Station (ISS), but below the majority of terrestrial satellites placed. The highest of terrestrial satellites sit in a geostationary orbit of 22,400 miles (36,000 kilometers).
Satellite Features: Each of satellites weighs only 500 pounds (227 kilograms). They were built in-house in Redmond, near Seattle in US. Their weight makes them the heaviest payload carried aloft by SpaceX to date.
Starlink's constellation: will become operational once over 800 satellites will be activated, which will require at least 12 launches carrying similar payloads. The 60 launched satellites are among the first of a planned 12,000-satellite megaconstellation with aim to provide high-speed internet service from space to customers around the globe.
Significance: This launch made SpaceX an early forerunner, along with its rival OneWeb, a startup, but way ahead of Amazon's Project Kuiper, the brainchild of Jeff Bezos.
About SpaceX
The US California-based Space Exploration Technologies, or SpaceX is a private rocket company of high-tech entrepreneur Elon Musk. Musk is also chief executive officer (CEO) of automaker Tesla Inc.
When it comes to rocket launches it is leading the private space race.
With its Starlink venture the firm is now looking to seize a chunk of future space internet market.
Month: Current Affairs - May, 2019
Topics: Amazon's Project Kuiper • Elon Musk • International Space Station (ISS) • Space Exploration Technologies • Space Race • SpaceX • SpaceX's Falcon 9 rockets • Starlink's Constellation
Latest E-Books