Solar Impulse 2- world's first solar-powered aircraft on global journey lands in Ahmedabad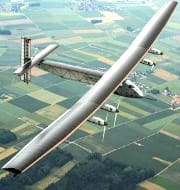 World's first solar powered aircraft on global journey- Solar Impulse 2 successfully landed in Ahmedabad, Gujarat.
The aircraft was piloted by Swiss pilots Bertrand Piccard and Andre Borschberg from its first halt Muscat, Oman.
Key features of Solar Impulse 2 aircraft
It is a Swiss long-range solar-powered aircraft project and claimed to be first aircraft to fly day and night without consuming conventional fuel.
Solely propelled by the solar energy and emits zero Carbon Dioxide (CO2).
Structure: Single-seater aircraft made of carbon fibre. It has a 72 metre wingspan and weighs 2,300 kilo grams.
Solar cells: 17,248 solar cells inbuilt into its wings. These cells supply renewable energy to propel the electric motors of aircraft.
These solar cells also recharge 4 lithium polymer batteries mounted on aircraft which allows it fly at night.
The first test flight of the aircraft was conducted in the United States in 2013.
Solar Impulse's maiden global journey
Solar impulse started its 35000 km long journey from Abu Dhabi (UAE). Its first halt was in Muscat (Oman).
Flight route and Stops- It will stop in Ahmedabad and Varanasi in India, Mandalay (Myanmar), Chongqing & Nanjing (China).
Then it will cross Pacific Ocean via Hawaii and fly across the US and take 3 stops at Phoenix, the Midwest and New York City.
Then it will cross Atlantic Ocean and stop in Southern Europe or North Africa and end its journey at Abu Dhabi.
It should be noted that the Solar Impulse 2 is flying from west to east on the selected route as per the direction of tailwinds which is in same direction of aircraft to keep it afloat.
Month: Current Affairs - March, 2015
Topics: Current Affairs 2016 • Gujarat • Science & Technology • Solar Energy
Latest E-Books