Smart Fence Border along India-Bangladesh Border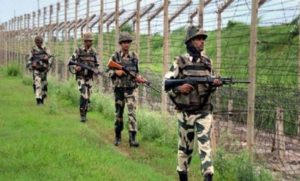 At the recently held border talks between India and Bangladesh, it was decided that the smart fencing across the border will be completed by July 2020. The smart fence is being constructed along the river Brahmaputra in Assam. The fencing is 55-km long.
Significance
The 55-km distance of the long India-Bangladesh International border has been chosen for smart fence implementation as the stretch is highly prone to cattle smuggling and illegal immigration. This is because the mighty Brahmaputra river changes its course frequently in the region.
A similar fence has been deployed in the Jammu region along the Pakistan border. The fence is now a part of Comprehensive Integrated Border Management System (CIBMS).
CIBMS
The CIBMS is an integration of number of new gadgets and technologies that ensures electronic surveillance in the international borders of India and Bangladesh. The smart fencing was suggested by Madhukar Gupta Committee to strengthen the Indo-Pakistan border.
Similar systems were to be implemented in US-Mexico border. However, it is yet to be implemented due to several financial challenges and technical glitches.
The long-standing smart fencing in Assam began in 1990.
Madhukar Gupta Committee
The Committee was set up in 2016. The committee studied the 3,323 km border between India and Pakistan across four states. It suggested use of technology in riverine frontiers. It also expressed displeasure over the implementation of laser walls in marshy terrain.
Topics: Border barriers • Border control • Border guard • Border Management • Border rivers • Border Security Force • CIBMS • India-Bangladesh • International borders • smart fence
Latest E-Books