Shavkat Mirziyoyev elected as new President of Uzbekistan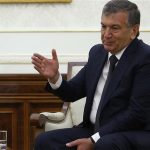 In a crushing electoral victory, Uzbekistan's interim leader Shavkat Mirziyoyev has been elected as the new President of Uzbekistan after the death of the authoritarian leader Islam Karimov. Mirziyoyev secured 88.6% votes. The election was generally peaceful due to lack of any competition. The country had sunk into economic chaos due to widespread corruption and criticism from international quarters. Mirziyoyev had worked as Prime Minister since 2003 under Islam Karimov's presidency. Mr.Mirzyoyev comes from the Liberal Democratic Party of Uzbekistan and has words of praise for the rule of Karimov.
He has expressed concerns about the economic decline, rampant corruption and various foreign-exchange controls. He has also desired to improve ties with Central Asian nations. Analysts have expressed hope that foreign policy of the nation will see a paradigm shift. The new President will notably improve ties with Russia. Karimov had closer ties with US and had also allowed US-led coalition forces to use its air base for taking on Taliban in neighbouring country Afghanistan.
Topics: Countries • Islam Karimov • Politics by country • Politics of Uzbekistan • Presidency of Shavkat Mirziyoyev • Shavkat Mirziyoyev • Uzbekistan
Latest E-Books