Scientists discover 163 new species in ecologically diverse Greater Mekong region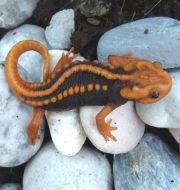 Scientists have discovered as many as 163 new species in the ecologically diverse Greater Mekong region of the Southeast Asia. It includes 3 mammals species, 9 amphibians, 11 fish, 14 reptiles and 143 plants. 
These species were discovered in Cambodia, Laos, Vietnam, Myanmar and Thailand. It was revealed by World Wildlife Fund (WWF) report.
Key Facts
The new species include lizard with dragon-like horns Acanthosaura phuketensis. It was discovered at the Thai tourist island of Phuket.
New frog species Leptolalax isos which can fit on a fingertip was discovered in Cambodia and Vietnam.
It also includes eye-catching Parafimbrios lao, a snake with rainbow-like scale colours around its head. It was found in the limestone karsts region of northern Laos.
A new newt species Tylototriton anguliceps with dazzling red and black markings was also discovered.
About Greater Mekong region
The Greater Mekong region is one of the most diverse regions and biodiversity hotspot on the planet. It is a magnet for the world's conservation because of the incredible diversity of species.
It includes southwestern China, Vietnam, Cambodia, Laos, Thailand and Myanmar. Mekong river helps this diverse region to sustain.
The region has a diverse geographic landscape including massifs, plateaus, and limestone karsts, lowlands, deltas, fertile floodplains, forests and grasslands.
It is habitats for an estimated 20,000 plant species, 1,300 fish species, 1,200 bird species, 800 reptile and amphibian species and 430 mammal species.
However, it is under intense pressure from dam and road building as well as a thriving illegal wildlife trade and climate change.
Month: Current Affairs - December, 2016
Topics: Environment • Greater Mekong region • Internatonal • Science and Technology • Southeast Asia • world wildlife fund • WWF
Latest E-Books