Saudi Arabia adopts Digital India, equality of women in Haj 2019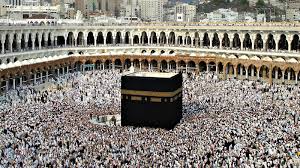 Indian Haj mission in the Kingdom of Saudi Arabia has adopted digital technology to reach out to a large number of pilgrims as part of Digital India initiative of Government of India.
Key Initiatives
Indian Haj Information System (Haj App):
It has been developed to receive feedback, a grievance from Hajis (Haj pilgrims).
At present, it receives feedback in English, Hindi and Urdu but soon other regional languages will be incorporated.
The app also connects pilgrims with Haj service coordinators (of their respective states) known as Qadimul Hajjaj. Qadimul Hajjaj are government employees who are deputed to assist pilgrims during Haj season.
Significance: With introduction of Haj App, Indian diplomats in Saudi Arabia are trying to form a bridge with pilgrims so as to facilitate a smooth and hassle-free Haj operation to them and also to receive grievances and feedbacks to improve service.
e-MASIHA: for medical facilities to visiting pilgrims.
e-MASIHA (Medical Assistance System for Indian Hajis Abroad) is an online platform where Health status and medical history of visiting pilgrims is being stored.
It would retrieve pilgrims' health information to apply appropriate treatment whenever he or she visits Indian medical facilities during Haj.
Other intiatives:
Besides App, other means to connect the officials and pilgrims are website and social media channels, toll-free numbers and exclusive in-house Youtube channel.
SIM Cards: Pilgrims are being provided Saudi Arabian mobile SIM card in India itself. These SIM cards can be activated in their buildings in Madinah and Makkah after recording their biometrics. Also, Biometrics is a mandatory requirement for issue of SIM cards in Saudi Arabia.
About Hajj
It is an annual Islamic pilgrimage to Mecca in Saudi Arabia the holiest city for Muslims.
Hajj 2019: will begin in the evening of 9 August and ends in the evening of 14 August 2019. This year, a total of 2 lakh Indian pilgrims are expected to travel for Haj to Saudi Arabia. Out of this 1.4 lakh pilgrims are travelling through government arm HCI (Haj Committee of India) and remaining through private Haj operators.
This year 2332 single women are travelling for Haj under Centre governments' Haj without 'Mehram' (male companion) initiative. In a bid to empower Muslim women, Narendra Modi government has removed restriction on single women pilgrims to travel and encouraged them to apply for Haj.
Related Posts
Category: Art & Culture Current Affairs
Topics: Digital India • e-MASIHA • Haj App • Haj without Mehram • Hajj 2019 • Indian Haj Information System • Saudi Arabia
Latest E-Books