UN Sasakawa Award 2019: Awarded to Pramod Kumar Mishra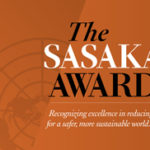 The United Nations Office for Disaster Risk Reduction (UNDRR) conferred 'Sasakawa Award 2019' for Disaster Risk Reduction (DRR) to Pramod Kumar Mishra, Additional Principal Secretary to Prime Minister of India.
Key Facts
The Sasakawa Awardee was announced at recent Award Ceremony during 6th Session of Global Platform for Disaster Risk Reduction (GPDRR) 2019 held at Geneva, Switzerland.
Pramod Kumar Mishra was awarded in recognition of his dedication to improve resilience of communities most exposed to disasters and for his personal commitment to social inclusion, which as per him acts as a critical principle to reduce inequality and enhances safety net of socially and economically marginalized section of society.
About Sasakawa Award
It is the most prestigious international award in Disaster Risk Management (DRM) area.
It is jointly organized by United Nations Office for Disaster Risk Reduction (UNDRR) and the Nippon Foundation.
Objective: It recognizes individuals, initiatives and organizations which have contributed towards ensuring inclusive participation in Disaster Risk Reduction (DRR) activities for all sections of society.
Prize: The Sasakawa Awardee (one or more winners) is given a total grant of US $50,000.
Background: In 1986 Mr. Ryoichi Sasakawa, the founding Chairman of Nippon Foundation, established following three prizes –

The United Nations (UN) Sasakawa Award for Disaster Reduction.
The World Health Organization (WHO) Sasakawa Health Prize.
The UN Environment Programme (UNEP) Sasakawa Environment Prize.

Sasakawa Award 2019: For this year's award UNDRR received more than 61 nominations from 31 countries. The theme of 2019 Sasakawa award was- "Building Inclusive and Resilient Societies".
About GPDRR
It is a multi-stakeholder forum to review progress, share knowledge and discuss the latest developments and trends in reducing disaster risk.
It was established by the UN General Assembly (UNGA).
It a biennial meeting which takes place every two years.
It was first held in 2007. Its sixth session took place in Geneva, Switzerland from 13 May to 17 May, 2019.
Category: Awards, Persons & Places in News
Topics: Disaster Managemnt • Disaster Risk Management • Global Platform for Disaster Risk Reduction • GPDRR • Nippon Foundation • Pramod Kumar Mishra • Sasakawa Award 2019 • UN Environment Programme (UNEP) Sasakawa Environment Prize • UNDRR • Unga • United Nations (UN) Sasakawa Award for Disaster Reduction • United Nations Office for Disaster Risk Reduction • World Health Organization (WHO) Sasakawa Health Prize
Latest E-Books