Sanskriti Kumbh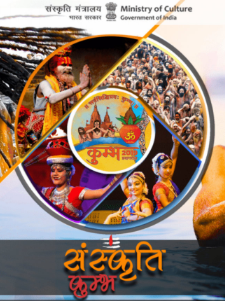 The Uttar Pradesh Governor Shri Ram Naik inaugurated the Sanskriti Kumbh at Prayagraj. The Sanskriti Kumbh celebrates the conglomeration of Spiritual Consciousness and Cultural Heritage of India in the main premises of Kumbh Mela in Prayagraj. It is being organised by the Ministry of Culture, Government of India under the Ek Bharat Shreshtha Bharat initiative.
Celebrating the Diversity of India
The Sanskriti Kumbh is aimed at showcasing the vibrancy of India. The Sanskriti Kumbh will give a chance to people to experience all the colours of Indian Culture at one place. This cultural extravagance aims to promote and reconnect the people especially the youth with our magnificent and multifaceted culture along with the opulence and its historical significance.
The cultural performances would display the legacy of India's Spiritual and Mythological practices. The performances will showcase the inclination of visitors towards devotion and Kumbh tradition. The folk dances, representing states from East West North South India, will showcase the spirit of Unity in Diversity that is Ek Bharat Shreshtha Bharat.
Under the ambit of Sanskriti Kumbh, Rashtriya Shilp Mela is being organised to display handicrafts and live demonstration of the skill by craftsmen.
Kumbh Mela at Prayagraj
Kumbh Mela is one of the oldest and largest congregation in the world. The Kumbh Mela is now part of the UNESCO list of Intangible Cultural heritage for humanity in.
This year Kumbh Mela is being organized in the city of Prayagraj which is located at the confluence of the Ganges, the Yamuna and Mystic river of Saraswati in Uttar Pradesh.
Category: Art & Culture Current Affairs
Topics: Cultural heritage of India • Ek Bharat Shreshtha Bharat • Ganga • Ministry of Culture • prayagraj • Rashtriya Shilp Mela • Sanskriti Kumbh • Saraswati • Spiritual Consciousness • Unity in diversity • Uttar Pradesh • Yamuna
Latest E-Books