Ram Nath Kovind sworn in as 14th President of India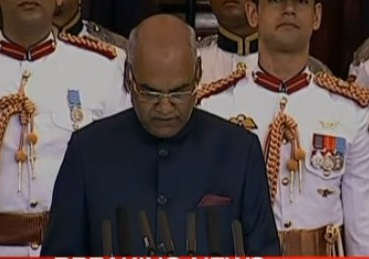 Ram Nath Kovind (71) sworn in as the 14th President of India. He was administered oath to the office by Chief Justice of India J.S. Khehar in Parliament's Central Hall.
With this, he became the second Dalit President of India after late President K.R. Narayanan. He is also the first person from Uttar Pradesh to hold the office of President since Independence.
Ram Nath Kovind
Mr Kovind was born on 1st October 1945 in Paraukh village in the Kanpur Dehat district, Uttar Pradesh. He had completed graduation in law from a Kanpur college. Before starting his career as a lawyer, he cleared the civil services examination but did not join as he was selected for an allied. He had joined the BJP in 1991. He was President of the BJP Dalit Morcha between 1998 and 2002. He also served as Member of Rajya Sabha from 1994 to 2006. Prior to getting elected as President, Mr. Kovind had served as the 35th Governor of Bihar.
President of India
President of India is top constitutional post as he is head of the Indian state, first citizen of India and supreme commander of the Indian armed forces. He is elected indirectly for a term of 5 years by an electoral college consisting of elected members of parliament (MPs from Lok Sabha as well as Rajya Sabha) and elected members of State legislative members, including that if NCT of Delhi and Pondicherry. He is eligible to re-elect for the same office for unlimited times.
Oath or affirmation by the President
According to Article 60 of the Constitution of India, every President and every person acting as President or discharging the functions of the President before entering upon office shall make and subscribe oath to the office. The oath inter alia includes the oath to preserve, protect and defend the constitution. In this sense, President takes oath as guardian of Indian Constitution. The oath is administered by Chief Justice of India or in his absence by the senior-most Judge of the Supreme Court available.
Month: Current Affairs - July, 2017
Category: Awards, Persons & Places in News
Topics: appointments • Article 60 • Persons in News • President of India • Ram Nath Kovind
Latest E-Books