Prohibition of Electronic Cigarettes Bill, 2019 passed by Parliament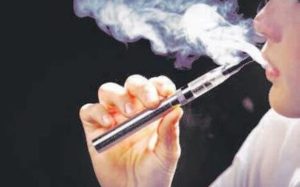 The Prohibition of Electronic Cigarettes (Production, Manufacture, Import, Export, Transport, Sale, Distribution, Storage, and Advertisement) Bill, 2019 was passed by Parliament on 3 December 2019. It was introduced in Lok Sabha by Union Minister of Health and Family Welfare, Dr. Harsh Vardhan. The Bill which seeks to prohibits the production, storage, trade, and advertisement of electronic cigarettes, replaces an Ordinance promulgated in September 2019.
Key Features of Bill
Electronic cigarettes: It defines electronic cigarettes or e-cigarettes– as electronic devices that heat a substance, which may contain nicotine and other chemicals, to create vapour for inhalation as well as contain different flavours.
Banning of e-cigarettes: It prohibits production/ manufacture/ sale/ transport/ import/ export/ transport/ distribution/ advertisement of e-cigarettes in India.  Any person not adhering to this provision will be punishable with imprisonment of up to 1 year, or a fine of up to 1 lakh rupees, or both and for any subsequent offence, the person will be punishable with an imprisonment of up to 3 years, along with a fine of up to 5 lakh rupees.
Storage of e-cigarettes: No person is allowed to use any place for storage of any stock of e-cigarettes and in case, if any person stores any stock of it then the person will be punishable with an imprisonment of up to 6 months, or a fine of up to Rs.50000 (or both).
Authorised Officer: Once the Bill comes into force after presidential assent, then, the owners of existing stocks of e-cigarettes will have to declare and deposit these stocks at nearest office of an authorised officer, who may be, a police officer (at least at the level of a sub-inspector), or any other officer as notified by central/ state government.
Powers of authorised officers: If an authorised officer believes that any provision of the Bill has been contravened, he can search any place where production/ trade/ storage / advertising of e-cigarettes is being undertaken and can also seize any record/ property connected to e-cigarettes found during search.  He may also take the person connected with the offence into custody.
Month: Current Affairs - December, 2019
Category: Legal & Constitution Current Affairs
Topics: Acts and Bills • CLAT • Dr Harsh Vardhan • e-cigarettes • Electronic Cigarettes Bill 2019 • Ministry of Health and Family Welfare
Latest E-Books