Professor Banwarilal Sharma passed away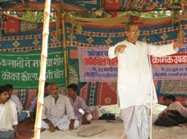 Professor Banwarilal Sharma- Mathematician and a Gandhian activist.
Prof. Banwarilal passed away recently in Chandigarh. He served Allahabad University as former HOD of Mathematics department.
Prof. Banwari Lal Sharma was a convenor of the movement named Azadi Bachao Andolan.
Azadi Bachao Andolan – It was led as peoples' movement in different part of the nation against nuclear energy. Prof Sharma was deeply involved with the movement against nuclear energy, and with peoples' movements in several parts of the country-including Hazaribagh, Uttarakhand, and Rewa, where Azadi Bachao Andolan worked to return the control of resources and the environment to the local people. The main aim of the andolan was to seek control of environment and its resources in the hands of local people.
Prof. Banwari Lal Sharma was also a member of the movement in Orissa against Posco Steel as well as the spread of the multinational soft-drinks in the nation.
He was one of the founding members of National Alliance of Peoples Movement as well as Swaraj Vidyapeeth at Allahabad. The Vidyapeeth worked with a focus of Jagrit Samaj promoting a new and independent pedagogy. The Vidyapeeth also served as a focus for the Jagrit Samaj.
Topics: Allahabad • Banwari Lal • Geography of India • Hazaribagh • States and union territories of India • Uttar Pradesh
Latest E-Books