President Ram Nath Kovind inaugurates Hornbill Festival in Kisama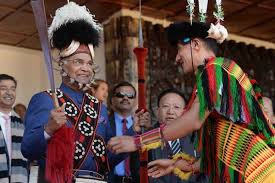 President Ram Nath Kovind inaugurated 18th edition of the Hornbill Festival at the Naga Heritage Village in Kisama, Nagaland. The festival coincided with 54th statehood day of Nagaland.
Hornbill Festival also called as the 'Festival of Festivals' in Nagaland is tourism promotional extravaganza to revive, protect and preserve the richness and uniqueness of Naga heritage.
Key Facts
Hornbill Festival is celebrated in Nagaland every year in first week of December. It is one of biggest indigenous festivals of country. The festival pays tribute to Hornbill, the most admired and revered bird for the Nagas for its qualities of alertness and grandeur.
The majestic bird is closely identified with social and cultural life of Nagas as reflected in tribal folklore, dances and songs. It is organized by State Tourism and Art & Culture Departments and also supported by Union Government.
The Hornbill Festival provides a colourful mixture of dances, performances, crafts, parades, games, sports, food fairs and religious ceremonies. It exposes both the culture and tradition of tribal peoples, and reinforces Nagaland's identity as a unique state in India's federal union.
Background
Hornbill Festival was established on 1st December 1963 and was inaugurated by the then President Dr. S Radhakrishnan. Over the years festival has become a unique platform for tourists to witness cultural diversity not only of Nagas and other seven sister states of northeastern region.
Month: Current Affairs - December, 2017
Topics: Festivals • Hornbill Festival • Naga Heritage village • Nagaland • Northeast • Ram Nath Kovind • States • Tourism
Latest E-Books