National waterways project threatens Gangetic dolphins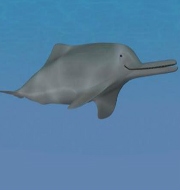 According to the scientists and wildlife conservationists, the National Waterways (NW) project possesses serious environmental threat to Gangetic river dolphins.
The development NW1 in the River Ganga is considered as single-largest threat to the survival of the species, whose numbers are declining in most parts of their natural habitat.
River dolphins are found in Ganga and Brahmaputra and its tributaries. It has been declared endangered species and is protected under Schedule I of the Wildlife Protection Act, 1972.
This fresh water dolphin species are practically blind. They rely on bio-sonar method to move around and catch their prey.  It is the National Aquatic Animal of India.
Threats to survival of Gangetic river dolphins
Construction of dams and barrages which hinders the natural flow of the rivers is the main reason considered for decline in the population of Gangetic river dolphin.
Besides, pollution and lack of awareness also causes decline in their population.
Loss of habitat due to increased developmental work, depletion of prey base, accidental mortality in fishing nets and accidents with vessel propellers are also some anthropogenic threats. The ships' noise-levels also disrupt the ability to navigate and find prey.
Importance of National Waterways (NW) projects
India has a huge untapped potential of inland waterways. To tap this potential the Central Government has planned to develop National Waterway 1, World Bank-aided 1600-km waterway project in River Ganga between Allahabad and Haldia for inland transportation.
It has potential to emerge as the logistics artery for northern India and improve navigability of the River Ganga as it passes through Uttar Pradesh, Bihar, Jharkhand and West Bengal.
Solutions
To tackle threat to dolphins, Union Ministry of Environment and Forest Conservation in 2016 had launched Endangered Species Recovery Plans for four species of global importance.
During the development of NWs, some measures will be listed such as safeguards, mentioned issues like minimising dredging.
Movement of cargo vessels will be restricted through protected habitat areas through river, monitoring systems and sound mufflers will be installated to reduce underwater noise.
Nesting grounds, breeding and spawning grounds of dolphins will be identified and development projects activity will be minimised in those areas.
Month: Current Affairs - September, 2016
Topics: Environment • Ganga river • Gangetic Dolphins • Inland Waterways • National • National Waterways
Latest E-Books