National Board of Wildlife Clears Rutland Island for DRDO's Missile Testing Project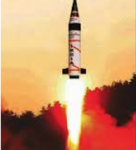 The National Board of Wildlife has approved Rutland Island in South Andaman to be the site for the country's long-range missile test facility. DRDO has been seeking the approval for the test facility since 2012. Taking into account the strategic importance of the project for country's defence, the Standing Committee of the National Board of Wildlife has approved the project.
Reasons for Delay
The project was continuously stalled by the environment ministry as the project involves diversion of 49.978 acres forest land, of which 0.84 ha falls in the Mahatma Gandhi Marine National Park and 49.138 ha reserve forest within 10km of the Eco Sensitive Zone. Rutland island is also very rich in marine life. 
Significance
The island is located at an ideal distance from the mainland where tests are typically launched from. The test facility is vital for DRDO's plans to have a comprehensive testing facility in order to identify and track long-range missile tests. DRDO also requires a land-based test area to accurately track its long range missiles. The Rutland Island is ideally located due to its distance from mainland.

Conditions
The state Chief Wildlife Warden has imposed certain conditions that are need to be fulfilled while implementing this project.
The conditions include preparation of a specific marine and terrestrial wildlife conservation plan; installation of essential deflectors and anti-radiation screens around satellite antennas to reduce the harmful impact of radiation on biodiversity; Vessels used for construction must take only the approved route; Project authority must take necessary approvals from the Chief Wild Life Warden while entering into waters of Marine National Park; no forest material/fire wood is to be collected from forest area; and no effluent or domestic sewage should be discharged into sea/forest area.
Month: Current Affairs - June, 2017
Topics: Defence • Environment • National • National Board of Wildlife
Latest E-Books