Modi – Xi Second Informal Summit in Mamallapuram, Tamil Nadu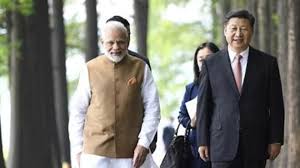 The Indian Prime Minister Narendra Modi and his Chinese counterpart Xi Jingping would be visiting Mamallpuram, Tamil Nadu for the second edition of informal summit between India and China.
The shore temple at the town is to get world class illumination for the summit.
Issue
The Tamil Nadu Government has approached the Madras High Court to seek permission to erect digital banner to welcome the leaders. The state was compelled to take the move in view of the death of 23 – year old Technocrat Miss Subashree who was killed by an illegally erected banner.
Mamallapuram
The place is also known as Seven Pagodas or Mahabalipuram. Marco Polo and other Europeans named it Seven Pagodas. It is believed that 6 more temples stood along with the lone standing shore temple. Hence the name Seven Pagodas. The 2004 Tsunami exposed an old collapsed temple built of granite and was a part of Seven Pagodas.
It is a historic town and was a seaport in the 1st millennium. It was declared as UNESCO World Heritage site. The famous monuments in the town include temples in the form of chariots, giant open rock sculpture, cave sanctuaries, Descent of the Ganges and a Shore temple
Shore Temple
The temple overlooks Bay of Bengal. It was built during the Pallava dynasty. It is a cave temple. Lord Vishnu shrine is placed between two shrines of Lord Shiva. The structures have multi – storied pyramidal superstructures typical of the Dravidian style.
The leaders are to meet in the temple. They will have a pradhakshan (a walk around the temple) and hold talks in a bench that is to be installed facing the temple.
Descent of the Ganges
It is a monument at Mamallapuram. It is an open – air relief carved on two monolithic rocks. The monument depicts the story of descent of the sacred river Ganges to the earth from heavens. It also portrays Arjuna's penance. The monument was sculpted in the period of Pallavas.
Wuhan summit
The first informal meet between the leaders was held at Wuhan, China in April 2018. The leaders exchanged views on issues of bilateral and global importance. The simultaneous emergence of India and China as two large economies has implications in regional and global significance. The summit was to address the imbalances created in the process. They agree that proper management of the bilateral relationship will be conducive for the development of the region. They also discussed about terrorism, disaster risk reduction, combating diseases, addressing climate change, etc.
Month: Current Affairs - October, 2019
Category: International Current Affairs
Topics: India China • India-China Informal Summit • Mamallapuram • Mamallapuram stone sculptures • Modi - Xi informal summit • Tamil Nadu • World Heritage site • Wuhan spirit
Latest E-Books