Mauritania holds election for 1st time in 60yrs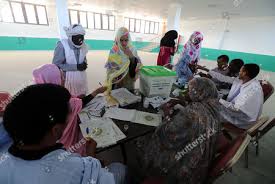 Mauritania, a country in Northwest Africa went to polls for the first time since the African nation gained independence from France nearly 60 years ago. Following the independence the country have mostly been ruled Non-elected military governments.
Key Highlights of Elections
President Mohamed Ould Abdel Aziz (62), who seized power in a military coup in 2008, agreed to step down and abide by serving period of maximum two five-year elected terms. Under his reign he has positioned Mauritania, as an ally of West against Islamist militants.
Bound by term limits, Abdel Aziz threw his support behind 62-year-old Mohamed Ould Ghazouani. Ghazouani, a former general and defence minister was heavily tipped to replace outgoing President Mohamed Ould Abdel Aziz.
These elections are being held to choose a successor to a democratically-elected president. However, they are being criticized for being held in absence of international observers and printing of ballot papers by a company with ties to ruling party.
The counting of ballots in Mauritania on Saturday evening from its presidential election, as the ruling party claimed its candidate was poised to win a landslide victory.
About Mauritania
The country is officially named Islamic Republic of Mauritania, lies on Atlantic coast of Africa.
It is a home to fewer than 5 million people across a vast expanse of Western Sahara Desert.
In 1981, Mauritania became final country in world to formally abolish slavery, but it continues to this day.
In recent years, country has been spared attacks by jihadist militants linked to Al Qaeda and Islamic State (IS). These militants have devastated other countries in West Africa's Sahel region, including neighboring Mali and Burkina Faso.
Month: Current Affairs - June, 2019
Topics: Al-Qaeda • Islamic Republic of Mauritania • Islamic State • Mauritania • Mauritania Election • Mohamed Ould Abdel Aziz. • Mohamed Ould Ghazouani
Latest E-Books