Maharashtra tops in 2016 Agricultural Marketing and Farmer Friendly Reforms Index of NITI Aayog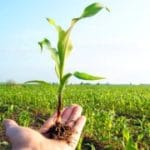 Maharashtra has been ranked first state in the country in 2016 Agricultural Marketing and Farmer Friendly Reforms Index.
The first-ever index based on initiatives taken by the states in implementing farm sector reforms was issued by the NITI (National Institution for Transforming India) Aayog.
What is Agricultural Marketing and Farmer Friendly Reforms Index?
The index ranks states based on their initiatives taken in implementing provision of seven farm sector reforms.
These reforms have been proposed under model APMC Act, joining eNAM initiative, special treatment to fruits and vegetables for marketing and level of taxes in mandis.
States are ranked based on score on the scale ranging from 0 to 100. The minimum score of 0 implies no reforms at all and score of 100 means state is friendliest to farmers.
The index identifies three major parameters. They are (i) reforms in agricultural marketing, (ii) land lease and (iii) forestry on private land.
What is purpose of the index?
The index aims at helping states identify and address problems in farm sector, which suffers from low growth, low incomes and agrarian distress to double farm income.
It also seeks to bring reform in agriculture sector by ease of doing agribusiness as well as provide opportunities for farmers to benefit from modern trade and commerce.
The various indicators of index showcases the levels of competitiveness, efficiency and transparency in agriculture markets of the states.
Key Highlights of 2016 Index
Top 5 States are Maharashtra (score 81.7), Gujarat (71.5), Rajasthan (70), Madhya Pradesh (69.5) and Haryana (63.3).
Maharashtra has implemented most of the marketing reforms and offers the best environment for doing agribusiness among all states and UTs.
Uttar Pradesh, Punjab, West Bengal, Assam, Jharkhand and Tamil Nadu performed poorly and not even have reached the halfway score mark of 50.
Some states/UTs that have not adopted APMC Act or revoked it are not included in the ranking. They include Bihar, Kerala, Manipur, Daman and Diu, Dadra and Nagar Haveli, Andaman and Nicobar.
Rankings and score of states

Month: Current Affairs - November, 2016
Topics: Agriculture • Farm Sector • Gujarat • Maharashtra • National • NITI Aayog
Advertisement