Madhya Pradesh selected for Krishi Karman Award for year 2014-15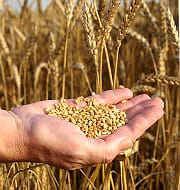 Madhya Pradesh has been conferred the Union Government's prestigious Krishi Karman Award in maximum food grains production category for year 2014-15 for the 4th consecutive year.
MP has been shortlisted for the award in the Integrated Agri Production category for the year 2014-15. It has produced record 328 lakh tonnes in the mentioned period compared to 280 lakh tonnes 2013-14 period.
Earlier the state had won this award in 2011, 2012, 2013 and 2014. The state will get an amount of five crore rupees along with Krishi Karman award.
Other winners
Chhattisgarh: Chosen for achieving growth in production of pulses.
West Bengal: Chosen for good agriculture production.
Odisha: Chosen for being the best performing state in overall foodgrains production among category-II states.
About Krishi Karman awards
Krishi Karman awards are given to Best performer States for raising country's food grain production.
These awards were instituted in 2010-11 for recognising the meritorious efforts of the states in foodgrains production.
It comprises of three awards for total food grain production and four awards for production of crops that constitute the food grain viz. rice, wheat, coarse cereals and pulses.
Topics: Agriculture • Awards • Chhattisgarh • Current Affairs 2016 • Krishi Karman Award • Madhya Pradesh • Odisha • West Bengal
Latest E-Books