Lander Vikram detaches successfully from Chandrayaan-2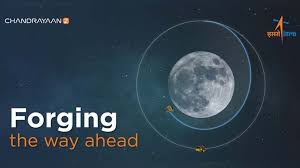 In a major success for the Indian Space Research Organization, the lander Vikram successfully detached itself the orbital module of the Chandrayaan -2 spacecraft. The lander will now make a four day journey to moon's surface.
About Vikram
The lander component of the Chandrayaan-2 is known as Vikram. Named in honor of Dr. Vikram Sarabhai, the lander aims to land on the surface of the moon to better gather data and assist in scientific research.
Vikram will gradually be deorbited over four days in two-deorbiting maneuvers on September 3 and 4. The Lander will touch the lunar surface on September 7.
Vikram will land in the Southern Polar region of the moon. This is the first time a country is landing any rover in this region of the moon.
Vikram also carries a six-wheel rover, Pragyan. The job of Pragyan is to provide a physical probe on the lunar surface. The rover will move on the lunar surface using its wheels & gear assembly and gather data on the lunar properties as per the desired scientific program.
The main space component of the mission, the Chandrayaan-2 will continue to obtain images and perform the remote-sensing of the lunar surface for at least a year before its power runs out.
Who was Vikram Sarabhai, the namesake of the Lunar Rover?
Vikram Sarabhai was a world-renowned polymath with special interests in science, physics and astronomy. While he is famous for several things like setting up the Indian Institute of Management, Ahmedabad and the guided several nuclear projects in their conception stage, he is most famous for his role as the founder of the Indian Space Research Organization (ISRO).
For his accomplishments, the Indian Government honored him with the Padma Bhushan and the Padma Vibhushan.
Topics: Chandrayaan programme • Chandrayaan-2 • Indian Space Research Organisation • Lander • Lunar rovers • Outer space • Pragyan • Rover • Sarabhai • Science and technology in India • Spaceflight • Vikram Sarabhai
Latest E-Books