Kerala Government bans e-cigarettes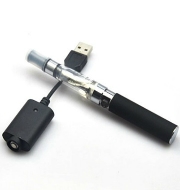 Kerala Government has banned 'electronic cigarette' alias 'e-cigarette' as its use can cause various health issues, including cancer and heart ailments.
In this regard, an order was issued that banned the production, sale and advertisement of e-cigarettes in the state.
With this, Kerala becomes fourth state in India to ban e-cigarette. Punjab was the first state to ban e-cigarettes in November 2014 under the provisions of Cigarettes and Other Tobacco Products Act (COTPA), 2003. It was followed by Maharashtra and Karnataka.
What are e-cigarettes?
e-cigarettes are handy battery-powered devices that emit doses of vaporised nicotine. It produces the feel of tobacco smoking.
Unlike regular cigarette, e-cigarettes do not produce smoke but produces an aerosol (mist), which is inaccurately referred to as vapor.
e-cigarettes have a heating element that atomizes a liquid solution known as e-liquid which usually is a mixture of propylene glycol, glycerin, nicotine, and flavorings.
Ill effects: A series of studies conducted in Japan and United States (US) had proved that the usage of e-cigarette can cause cancer and heart ailments.
Month: Current Affairs - July, 2016
Latest E-Books