Kenya's former president Daniel Arap Moi passes away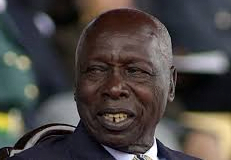 Kenya's longest-serving president, Daniel Arap Moi, who ruled the country for 24 years, passed away recently. He assumed charge as the President of the country in 1978, when the founding President Jomo Kenyatta died.
He was seen as a uniting figure by many Kenyans. During his reign, he passed a constitutional amendment that made Kenya a one-party state. Then he surrendered to the demands of a multi-party state in 1991. Corruption, economic crisis and political protests were reported in the East African country.
Latest E-Books