'Joy Bangla' becomes Bangladesh's national slogan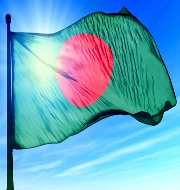 The High Court of Bangladesh has recently ruled that 'Joy Bangla' will be the national slogan of Bangladesh. The Court also asked the authorities to take appropriate steps to make all the people in constitutional posts, state officials, teachers and students use 'Joy Bangla'.
The Court has asked the government to submit the compliance report within three months. 'Joy Bangla' was the main slogan during the liberation war of Bangladesh fought against Pakistan in 1971.
Topics: Bangladesh • Government agencies of Bangladesh • In Bangladesh
Latest E-Books