Joint Naval Annual Quality Conclave (JNAQC)
Published: September 3, 2019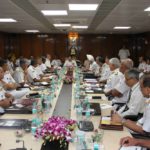 The Naval Quality Assurance Establishments, under the aegis of the Director General Quality Assurance (DGQA), Ministry of Defence is planning to organize the Joint Naval Annual Quality Conclave (JNAQC) on September 05, 2019.
The theme of the Joint Naval Annual Quality Conclave is 'Transformation of QA Paradigm: Opportunities and Challenges'.
The Joint Naval Annual Quality Conclave (JNAQC) will be held in Visakhapatnam.
The Chief Guest of the Joint Naval Quality Conclave (JNAQC) will be the Commanding-in-Chief of Eastern Naval Command.
The aim of the Conclave is to provide an open environment for enabling a holistic discussions on the changing scenario of quality assurance paradigm. The conclave aims to benefit all stakeholders and participants by allowing the exchange of ideas and the best operating practices from diverse fields.
The conclave will be attended by several top level managers and leaders from diverse field like aerospace engineering, ship manufacturing, private players and the Indian Navy. Members of various academic institutes are also expected to participate in the conclave. A separate session on the 'Quality Challenges of Emerging Technologies' in the emerging technologies of the Indian Navy will be delivered by a Rear Admiral of the Indian Navy.
Topics: ConClave • United States Navy