Japan's Yoshinori Ohsumi wins 2016 Nobel Prize in Medicine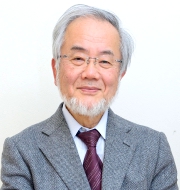 Yoshinori Ohsumi (71) of Japan has won the 2016 Nobel Prize for physiology or Medicine for his pioneering work on autophagy.
With this he becomes the 23rd Japanese national to win a Nobel prize and overall the sixth Japanese medicine Nobel laureate.
Mr. Ohsumi had received a PhD from the University of Tokyo in 1974. Currently, he is a professor at the Tokyo Institute of Technology (TIT).
What is Autophagy?
Autophagy is a process whereby cells "eat themselves". It is a fundamental process in cell physiology dealing with how the body breaks down and recycles cellular components.
It is essential for the orderly recycling of damaged cell parts and its better understanding has major implications for health and disease, including cancer.
It was first observed by Belgian scientist Christian de Duve who had won Nobel Medicine Prize in 1974 for it.
Christian de Duve had coined the term "autophagy", which comes from the Greek meaning self-eating.
Yoshinori Ohsumi's Research in Autophagy
Ohsumi's discoveries in Autophagy have led to a new paradigm in the understanding of how the cell recycles its content.
In his research, Mr. Ohsumi had used baker's yeast to identify genes essential for autophagy.
He explained the mechanisms for autophagy in yeast and showed that similar sophisticated machinery is used in human cells.
Significance: Ohsumi's research had located the genes that regulate this self-eating process and also related that errors in these genes can cause disease.
His findings have opened new path to understand importance of autophagy in many physiological processes, such as how body adapts to starvation or responds to infection.
It has helped to establish links to Parkinson's disease, type 2 diabetes and other disorders that appear in the elderly.
About Nobel Prize in Physiology or Medicine
The Nobel award for medicine is given to persons whose discoveries have significantly enhanced the understanding of life or the practice of medicine.
The winners are chosen by the Nobel Assembly at the Karolinska Institute and are always announced before the Nobel Prize for other categories.
The prestigious award carries prize money of 8 million Swedish kroner or 1.1 million dollars.
It is one of five Nobel Prizes established by Swedish chemist Alfred Nobel, the inventor of dynamite in 1895.
Month: Current Affairs - October, 2016
Topics: Autophagy • Awards • Japan • Medicine • Nobel Prize • Persons in News • Yoshinori Ohsumi
Latest E-Books