ISRO's GSLV-F05 launches advanced weather satellite INSAT-3DR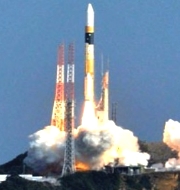 The Indian Space Research Organization (ISRO) has successfully launched advanced weather satellite INSAT-3DR.
The satellite was launched on board of Geosynchronous Satellite Launch Vehicle (GSLV-F05), from the Satish Dhawan Space Centre in Sriharikota.
So far this year, it was the seventh successful mission of ISRO including the IRNSS series and the scramjet propulsion mission.
About INSAT-3DR
INSAT-3DR weighing 2,211-kg will supplement the services of INSAT-3D launched from French Guiana in July 2013. It has designed mission life of ten years.
Orbit: INSAT-3DR was successfully placed Geostationary Transfer Orbit (GTO). To reach final GTO at 74 degree East longitude, INSAT-3DR had used its own propulsion system.
Payloads in INSAT-3DR: (i) Multi-Spectral Imager: It would generate images of earth every 26 minutes to provide information on various parameters, sea surface temperature, snow cover, cloud motion winds. (ii) Sounder: It will provide information on temperature and humidity. (iii) Data-Relay Transponder: It will be used for receiving meteorological, hydrological and oceanographic data.  (iv) Satellite Aided Search and Rescue Transponder: It will be used to pick up and relay alert signals originating from distress beacons of aviation, maritime, among others.
Applications: It will provide service continuity to earlier meteorological missions and further augment the capability to provide various meteorological, search and rescue services.
GSLV-F05
GSLV-F05 was the tenth flight of India's GSLV. Besides, it was GSLV's fourth flight with the indigenous cryogenic engine CE-7.5, with the first three being developmental flights.
Thus, it was the first operational flight of the rocket fitted with the indigenous cryogenic upper stage. It had indigenously developed Cryogenic Upper Stage (CUS) on-board.
GSLV is a three stage rocket designed to inject 2 to 2.5 ton class of satellites into GTO.The first stage of rocket is fired by solid fuel and its four strap-on motors by liquid fuel.
The second stage is powered by liquid fuel and the third stage by the cryogenic engine which is more efficient as it provides more thrust for every kilogram of propellant burnt.
Significance: ISRO is perfecting the crucial cryogenic engine technology in order to save precious foreign exchange by launching heavier satellites on its own. Currently, ISRO relies on the European Space Agency (ESA's) Ariane rocket to launch its heavy communication satellites.
Month: Current Affairs - September, 2016
Topics: GSLV F05 • INSAT-3DR • National • Science and Technology • Space technology
Latest E-Books