ISRO Successfully tests Cryogenic Engine for Upper Stage of GSLV Mk III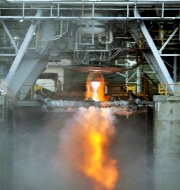 The Indian Space Research Organisation (ISRO) successfully tested indigenously developed cryogenic engine for the upper stage 'GSLV Mk III' rocket.
 The cryogenic upper stage, designated as C25, was tested for 50 seconds at ISRO Propulsion Complex (IPRC) at Mahendragiri in Tamil Nadu demonstrating all the stage operations. It was the first test in a series of two tests.  The second test is planned for flight duration of 640 seconds.
Key Facts 
Cryogenic engines are used in the upper stage of a rocket launch as they provide the maximum thrust to a launcher vehicle.
The development of C25 cryogenic stage started after approval of GSLV MkIII, ISRO's next generation launch vehicle, capable of launching heavy four tonne class spacecraft in Geosynchronous Transfer Orbit (GTO).
C25 stage was conceptualised, designed and realised by Liquid Propulsion Systems Centre (LPSC) with support from Vikram Sarabhai Space Centre (VSSC), ISRO Propulsion Complex (IPRC) and Sathish Dhawan Space Centre (SDSC).
GSLV MkIII vehicle consists of two solid strap-on motors, one earth storable liquid core stage and the cryogenic upper stage.
The C25 stage is most powerful upper stage developed by ISRO. It uses Liquid Oxygen and Liquid Hydrogen propellant combination. This stage carries 27.8 tons of propellants loaded in two independent tanks.
Note: Development of a cryogenic stage has unique design challenges liquid Oxygen stored at -195 deg C and as liquid Hydrogen is stored at -253 deg C in its tanks. To store these cryogenic fluids, special multi-layer insulation is provided for the tanks and other structures.
Comment
The 50 second test of C25 is a significant milestone in the ISRO's development of indigenous cryogenic propulsion technology. The successful hot test of the stage in the first attempt itself demonstrates the ISRO's ability to work in new areas like cryogenic technology. The first flight stage for 'GSLV MkIII-D1' mission is in an advanced stage of realisation. It is scheduled to launch GSAT-19 during first quarter of 2017. Its flight engine was successfully tested earlier in the High Altitude Test facility and integrated with the flight stage.
Month: Current Affairs - January, 2017
Topics: Cryogenic Engine • GSLV Mk-III • ISRO • Rocket Technology • Science and Technology • Space technology
Latest E-Books