Indian engineer Vikas Sathaye part of team awarded Sci-Tech Oscar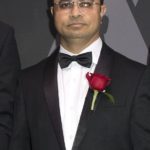 Pune-born Indian engineer Vikas Sathaye was awarded Scientific and Engineering Academy Award at Oscars Scientific and Technical Awards 2018. He was bestowed award along with his three other team for their contribution towards conceptualisation, design, engineering and the implementation of the 'Shotover K1 Camera System'.
Shotover K1 Camera System
The system is a camera mount that is used for aerial filming. It is six-axis stabilised aerial camera moun that can be attached to base of a helicopter, which carries the camera and lens. Its camera mount ensures steady footage by eliminating any vibration from reaching camera. This helps in enhancing ability to frame shots while looking straight down, enables greater creative freedom and results in clear, unwavering photography and videography. Cinema cameras can be mounted on it and can used to capture challenging aerial shots
Sci-Tech Oscar Awards
The Oscar's or Academy's Scientific and Technical Awards honours companies and individuals for their discoveries and innovations that have contributed significantly to motion pictures.  They are conferred on three levels: Technical Achievement Award (certificate), Scientific and Engineering Award (bronze tablet) and Academy Award of Merit (Oscar statuette). They were first presented at 4th Academy Awards ceremony in 1931.
Category: Awards, Persons & Places in News
Topics: Awards • Persons in News • Sci-Tech Oscar Awards • Shotover K1 Camera System • Vikas Sathaye
Latest E-Books