Indian Army conducts Shatrujeet battle exercise in Rajasthan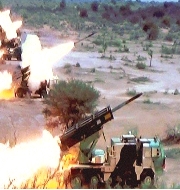 The Indian Army conducted major battle exercise named as 'Shatrujeet' in the Thar Desert of Rajasthan near to the border with Pakistan.
The sole purpose of the exercise was to evaluate the capability of the Indian Army and fine tune its proactive war strategy to respond swiftly to any threat to nation's security.
Key facts
The 2016 Shatrujeet battle exercise was steered by the Mathura based 1 Corps, one of the three principle strike corps of the Indian Army.
It aimed to evaluate the capability of the Indian Army to strike deep into enemy territory in an integrated air-land battle environment.
It was an operation-oriented exercise that focused on validating integrated battle theatre fighting concept.
It also incorporated the new-age technologies, weapon platforms and systems as well as long range precision targeting vectors.
It was post preparatory training exercise manoeuvres at subordinate units and formation levels by conducting integrated operational manoeuvres.
It mainly validated India Army's operational plans in simulated high tempo battlefield environment and terrain.
Background
Indian Army at regular intervals undertakes such battle exercises at different levels to ensure forces are provided war-like situations and kept in high-state of battle readiness as part of so called Cold Start Doctrine.
The doctrine involves the various branches of India's military conducting offensive operations against enemy (mainly Pakistan) as part of unified battle groups.
It would involve limited, rapid armoured thrusts, with infantry and necessary air support.
Under it, the offensive operations must begin within 48 hours after orders have been issued. Such a limited response time would enable Indian forces to surprise their enemy.
It is intended to allow India's conventional forces to perform holding attacks in order to prevent a nuclear retaliation from the enemy.
Month: Current Affairs - April, 2016
Topics: Cold Start Doctrine • Defence • Indian Army • Military Exercises • Rajasthan
Latest E-Books