India-UK Joint Team wins Newton-Bhabha Fund for Groundwater Arsenic Research project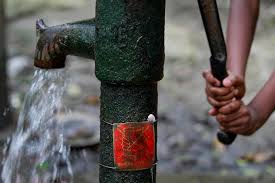 India-United Kingdom (UK) Joint Team has won Newton-Bhabha Fund for project on Groundwater Arsenic Research in Ganga River Basin. The project was undertaken by Department of Science and Technology (DST) in collaboration with Natural Environment Research Council (NERC), UK to find solutions to water challenges faced in pervasively arsenic-affected Ganga River Basin.
Key Facts
The Indian team comprised representatives of Indian Institute of Technology (IIT) Kharagpur, National Institute of Hydrology, IIT Roorkee and Mahavir Cancer Sansthan and Research Centre of Patna.
The UK team consisted of representatives of University of Manchester, University of Salford, British Geological Survey and University of Birmingham.
The project is aimed to assess problem of arsenic poisoning and to understand aggravation such situation in next 25 to 30 years and its influence on groundwater management practices and suggest water remedial technologies accordingly. It is conducted from three sites – Bijnor and Varanasi in Uttar Pradesh and Nadia in West Bengal.
Newton Bhabha Fund,
It is provided by the British Council. It aims to bring together UK and Indian scientific research and innovation sectors to find joint solutions to the challenges facing India in economic development and social welfare.
Arsenic Contamination
Arsenic is natural component in the earth's crust. It is widely distributed throughout the environment in the air, water and land. It is highly toxic in its inorganic form. Arsenic contaminated water used for drinking, irrigation of food crops and food preparation poses the greatest threat to public health from arsenic.
Long-term exposure to arsenic from drinking-water and food can lead to chronic arsenic poisoning. It can cause cancer, skin lesions, developmental effects, cardiovascular disease, neurotoxicity and diabetes.
Arsenic Contamination is a high-profile problem in the Ganges Delta, due to the use of deep tubewells for water supply. The groundwater in these tube wells have high concentrations of arsenic in deeper levels.
Month: Current Affairs - March, 2018
Topics: Ganga river • Groundwater Arsenic Research Project • India-UK • Newton-Bhabha Fund • Science and Technology
Latest E-Books