India, Russia agree to double the range of BrahMos Missile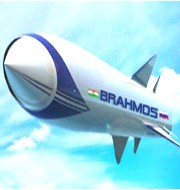 India and Russia have agreed to double the range of the BrahMos supersonic cruise missile from 290 km to over 600 km.
The decision in this regard was taken during the meeting between Prime Minister Narendra Modi and Russian President Vladimir Putin in Goa on the sidelines of the BRICS summit.
Why this decision was taken?
Earlier, India was denied access to the missile technology with range over 300 km as it was not member state of the Missile Technology Control Regime (MTCR). But India's recent accession to MTCR, allowed Russia to provide the critical systems and technology to extend the range of the missile beyond 300km.
Benefits of extending range: It will enhance the stand-off capability and the operational radius in striking targets of the missile. It will have major force multiplier due its speed and accuracy.
Background
India and Russia had teamed up to develop the BrahMos missile in 1998. It is based on the Russian Yakhont anti-ship missile. Its range was limited to 290 km as Russia was a member of MTCR but India was not. Due to restrictions under MTCR, Russia was not able provide the critical systems of the missile to increase its range.
What are features of BrahMos Missile?
BrahMos is one of its kind supersonic cruise missile. Named from the names of two rivers, India's Brahmaputra River and Russia's Moskva River.
It operates on fire and forget principal and is capable of being launched from land, sea, sub-sea and air against sea and land targets.
It is capable of carrying a warhead of 300 kilogram and has top supersonic speed of Mach 3 (that is, three times the speed of sound).
It is two-stage missile, the first one being solid and the second one ramjet liquid propellant.
The BrahMos Missile already been deployed by Indian Army and Indian Navy in anti-ship and precision strike roles respectively. The air version is at present undergoing testing.
What is Missile Technology Control Regime (MTCR)?
MTCR was established by G-7 countries in 1987. It is only an informal political understanding and not an official treaty with legally binding obligations. The aim of the MTCR is to restrict the proliferation of missiles, unmanned air vehicles (UAVs), complete rocket systems and related technology for those systems capable of carrying a 500 kilogram payload for at least 300 kms, as well as systems intended for the delivery of weapons of mass destruction (WMDs).

Month: Current Affairs - October, 2016
Topics: BrahMos missile • Defence • India-Russia • missile technology • MTCR • National
Latest E-Books